The Dog Team Bios
The Dog Team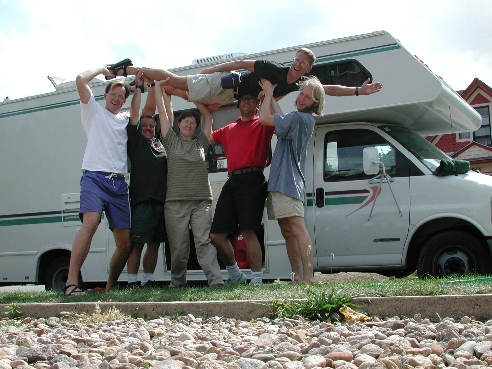 Cave Dog
Sea Dog, Scurv E. Dawg, Lady Dog, Rad Dog, Burns Dog
The Kennel
Scurv E. Dawg-Kurt Yessak, Executive Chef

Scurv E. Dawg grew up in Grand Rapids, Minnesota. He had a fascination for Colorado at a young age. When his brother moved out to Colorado, it afforded Scurv E. Dawg an opportunity to move out as well. In 1981, at the age of 19, he moved to Keystone and worked at the Keystone Resort Lodge, which started his long career as a chef. As is common in his profession, Scurv E. Dawg has moved around a considerable amount. He has worked at the Aspen Country Inn, in Aspen, as an Executive Chef, where he received a Four Star rating. The Hotel Colorado, in Glenwood Springs as an Executive Sous Chef, Beaver Run Resort in Breckenridge as an Executive Sous Chef. As a line cook in Napa Valley at Domaine Chandon, also at a Sheraton Resort in Prescott Arizona, as an Executive Chef and the Hotel King Kamehameha in Hawaii, as a Sous Chef. He has also had training as a Sushi Chef at Tahka Sushi in Aspen, With the addition of many other resorts and towns, including Crested Butte, where he met Cave Dog. Scurv E. Dawg is now going to move to Redstone, Colorado, to take a position as Executive Sous Chef at the Redstone Inn.

Scurv E. Dawg first met Cave Dog in November of 1995 in the smoky upper pool rooms in the Talk of the Town in Crested Butte. Cave Dog recently moved to the area and was still homeless. Scurv E. Dawg gave Cave Dog a sofa to surf until Cave Dog found his infamous cave in the forest. When Cave Dog, came back to Colorado, in 1998, to scout out the Fourteeners for a possible challenge, Scurv E. Dawg gave him a job as a prep cook at the Beaver Run Resort in Breckenridge. Scurv E. Dawg was able to manipulate Cave Dog's work schedule in such a way that he could work fifteen hour days, freeing up long weekends to climb.

Scurv E. Dawg took off the entire summer of 2000 in order to be Cave Dog's base camp manager during the training period. He worked diligently at planning climbing and driving routes, as well as, the coordination of the four vehicles. He was in charge of feeding the support crew and making sure that Cave Dog always had the correct nutrition and fluids for his extreme diet during the intense exercise. He and Lady Dog were in charge of packing Cave Dog's small pack. In addition, Scurv E. Dawg maintained order among the chaos of the Kennel.

Rad Dog-P.J. Keizer, MD

Rad Dog is Cave Dog's older brother. They come from a close family of five kids based in Coos Bay, Oregon. Day hikes, skiing, and travel are some of the favorite pastimes for the Keizer household. Their parents gave them an appreciation for the exploration of different regions and cultures at an early age. In addition, when Sea Dog was a small boy, Rad Dog taught him how to swim.

After graduating from Marshfield High School in Coos Bay, Oregon, in 1979, Rad Dog went on to earn a BS degree from Notre Dame, in 1983. He continued his education with a Masters in Radiation Health at Oregon State in 1986. After working for several years in safety programs at nuclear plants, Rad Dog received his doctorate in medicine at St. Louis University School of Medicine, in 1994. He did his residency training in radiology at UMKC, finishing in 1998. Cave Dog joined up with Rad Dog in Kansas City in order to get some high volume inner city EMT experience at MAST ambulance service. Currently, Rad Dog is a radiologist at Bay Area Hospital in Coos Bay, Oregon.

Rad Dog was in charge of all medical needs. He was also the primary driver of the Kennel. Rad Dog put the chaotic financial accounting to some order. In addition, he took charge of vehicle maintenance of the four vehicles and the videography.

Sea Dog-Ross Workhoven, Sea Kayak Guide

Sea Dog and Cave Dog have been friends ever since Sea Dog moved next door to Cave Dog when they were both two years old in Coos Bay, Oregon. They were often found mixed up in some shenanigans with the other neighbor kids. Sometimes it seemed that they lived atop the tall pine trees between their homes. In Junior High, they shared many of the same classes. In addition, Sea Dog was instrumental in helping Cave Dog in his many political campaigns to come. By Junior year in high school, Sea Dog, Cave Dog, and Jason Goodson began to pal around and the ties between the three of them would be formed into a life long friendship.

After high school, Sea Dog went to College at Western Oregon State for a year, and finished his Outdoor Education Degree at Northland College in Wisconsin. Throughout his college years, Sea Dog built upon his love for the wilderness. He took jobs as a backcountry ranger in the Sky Lakes Wilderness, guided in the Oregon Caves, and spent two months backpacking in Kenya. However, it was in Wisconsin that Sea Dog found his true passion, sea kayaking. Since that time he has been employed as a kayaking guide in both Lake Superior and on the coast of Maine. Like Cave Dog, Sea Dog is a constant wanderer, but he currently lives in Bar Harbor, Maine. His love for the water has renewed his appreciation for the outdoors.

During the Mighty Mountain Megamarathon, Sea Dog was the primary driver of Myrtle. He was also in charge of all electronics and photography.

Burns Dog-Eric Freeman, PhD

Burns Dog grew up in Severna Park, Maryland. After graduating from Severn School, in 1990, he attended Brown University. Burns Dog and Cave Dog were placed in the same freshman unit, Unit 7. Together with the other guys at the end of the hall, Burns Dog and Cave Dog created an incredible friendship. This group of friends, at times, seeming inseparable, continued to live as roommates for the entire four years at college. This diverse group was always goofing around and learned an incredible amount from each other. After college, Burns Dog earned his Doctorate in Mathematics from the University of Michigan in 1999. Since that time, he has been doing postdoctoral research in Number Theory at the University of Colorado at Boulder.

Although he could not be with the Dog Team for the whole time, Burns Dog was the relief driver during the challenge, which means he drove constantly. He was in charge of navigating and spent some time figuring driving distances. Burns Dog also became the main contact for the media.

Lady Dog-Tanya Dix, Manager

Lady Dog did not grow up in any particular place. She has lived in Utah, Queensland, Australia, Greeley, Colorado, and a short time in Oviedo, Spain. In 1991, she moved to Myrtle Creek, Oregon. After graduating from South Umpqua High School in Myrtle Creek, she went to Willamette University where she earned a degree in Philosophy. It was at Willamette University that she met Good Dog, a very close friend of Cave Dog. In 1997, Lady Dog and Good Dog got married. In the fall of 1997, they moved to Philadelphia where Lady Dog did postgraduate studies in Classics at the University of Pennsylvania. They currently live in Eugene, Oregon.

In the intervening years, Cave Dog has gotten to know Lady Dog not just through Good Dog but as friends in their own right. Dog and LGoodady Dog have always extended an open home to Cave Dog in his frequent visits to Oregon and they have done many interesting excursions together.

Lady Dog was in charge of the website design and updates. She was also the primary driver of the backup four wheel drive vehicle. In addition, she helped Scurv E. Dawg with making sure that nothing was amiss with Cave Dog's pack.

Cave Dog-Ted E. Keizer, Bum

Cave Dog grew up in Coos Bay, Oregon. He graduated from Brown University in 1994 with degrees in Geology Biology and Political Science. While at Brown, he was elected Student Body President. He was also voted by his class to lead their graduation procession. After college, Cave Dog was tracked for a life in politics when he decided that he needed to experience life before he could write and vote on laws. So, he set out to do his own study of society, people, and nature. Since that time he has visited all of the states, most of them multiple times. He has lived and worked in ten states, Indian country, the inner city, and the woods. Hot air balloon pilot, hotel accountant, steel construction, shoveling snow off roofs, enumerator, moving man, and ambulance driver are just a few of the means of employment he has tried. His only restriction is that he never does the same job twice. Being an outdoor enthusiast from an early age, he has visited 135 National Park sites and hiked and climbed in 36 states. In addition, he did a 31 day solo in Glacier Park, Montana, under winter conditions. He loves all forms of hiking from the peaks to the canyons, from the swamps to the desert, from the woods to the tundra. Most of all he loves the wildlife and the wildflowers.

During the record, Cave Dog climbed, and that is all.

The Kennel-Four Winds, Mobile Base Camp

The Kennel provided a mobile base camp by which the Dog Team could cook, sleep, and shower. Besides running over a fire hydrant, the Kennel performed marvelously.

Josephine-Wagoneer, Backup Four Wheel Drive

Josephine is Scurv E. Dawg's vehicle. She provided a means for him and Cave Dog to gain access to the trailheads during training. Unfortunately, she showed many signs of the abuse they gave her throughout the summer. She sprung three leaks in the radiator, broke a battery cable, shorted the starter, wrapped a muffler and exhaust pipe around the rear axial, sprung a leak in the oil pan, misaligned the shifting mechanism, vapor locked, cracked a pinion joint, and jammed the fan guard into the fan, breaking it. She had four flats including the loss of a retread on the spare tire on the way to the tire shop to fix one of the flats. Her spare tire wrack jammed twice locking the spare on her underbelly. By the end of the summer, she got new bushings, fuel filter, electric fuel pump, brakes, receiver, and distributor cap, just to name a few. If it were not for Perro Negro's help she would have never survived the summer. However, some of the difficulties arose from the negligence of the people around her, such as running out of gas, a lock out, even the state mistyped her title. At one point, she spent five days up South Colony recharging equipment until she needed a jump herself. All and all, she handled the tremendous abuse well. She has had so much replaced on her that today she seems almost a new car.

During the record, Josephine provided a back up four wheel drive vehicle and ran errands so that Myrtle and the Kennel could stay with Cave Dog.

The Dog House-Myrtle, Wrangler, Primary Four Wheel Drive

All but a few of the trailheads are up dirt or four wheel drive roads. Myrtle provided the Dog Team with a reliable way to reach those trailheads. Besides a dent in the passenger side fender, she managed wonderfully.

Wheezy, Quantum Syncro, Shuttle

Wheezy used to go by the name Louisey until she got launched over a giant boulder up the Lead King Basin. She really had no business being up there, but Cave Dog was desperate to check out the Snowmass/Capitol traverse during training and Josephine was in the shop. At one point all four tires were suspended as she skidded down on her underbelly. Her shifting rod was bent and Cave Dog drove her almost all the way to Marble in reverse until it got too dark to see the cliffs. Perro Negro once again came to the rescue and towed her to Marble, only to have to return and tow again because AAA would not tow on County Road 3. The mechanics got her on the road again but she wailed and groaned. Hence, she lost her Lou and became Wheezy.

During the M4, Wheezy shuttled Burns Dog to work and back. She also provided just one more option in case their were major car troubles.



ATVs


The Lake Como road that gains access to the Blanca Group, is often touted as the most technical jeep road in Colorado. Much of the road is littered with loose spherical rocks that slip out from under tires. Three spots are so difficult that they have been called Jaws One, Jaws Two, and Jaws Three. In recent years, Jaws Two and a Half has gotten bad enough that people are beginning to feel it should gain full Jaws status. Often times the only way up and down these sections is by winch. None of the Dog Team had these kinds of technical four wheel drive skills, so they used two ATVs to gain access to the trailhead. After leaving off Cave Dog 3,000 feet below Little Bear, Rad Dog and Burns Dog continued up to Lake Como only to have one of the ATVs breakdown. The next day, Burns Dog had to come up the road again with the owner to fix and fetch the wounded ATV.



Durango & Silverton Narrow Gauge Railroad


To gain access to the Eolus Group, the Dog Team had to take the Silverton to Durango Scenic Train. It left them off and picked them up right on the side of tracks deep in the Needle Mountains.
The Dog Team would appreciate anyone that finds inaccuracies in this site to email: Errors@TheCaveDog.com

Any other suggestions or questions, please email: TheDogTeam@TheCaveDog.com


www.TheDogTeam.com was created by The Dog Team.

Please note that this site is a work in progress ©